We work with clubs and ownership groups to help them use data to make better decisions:
Technical Scouting
We have developed our own in-house scouting software.
Every active player in world football has a profile with each metric ranked against their peers in the same division and position.
Compare any two players in any positions to see how their performance stats line up.
Each client also gets their own unique database. We work with the club to create specific positional profiles for each player. We then suggest relevant players and grade them (A-D) for suitability to the club system and the player's ability. We can also assess club and agent recommendations.
We supply this service at any professional level, as long as there is footage on Wyscout or Instat.
We work with the club recruitment and technical staff to "calibrate" our eyes with theirs and have successfully worked with Champions League winning coaches who have grown to trust our opinions.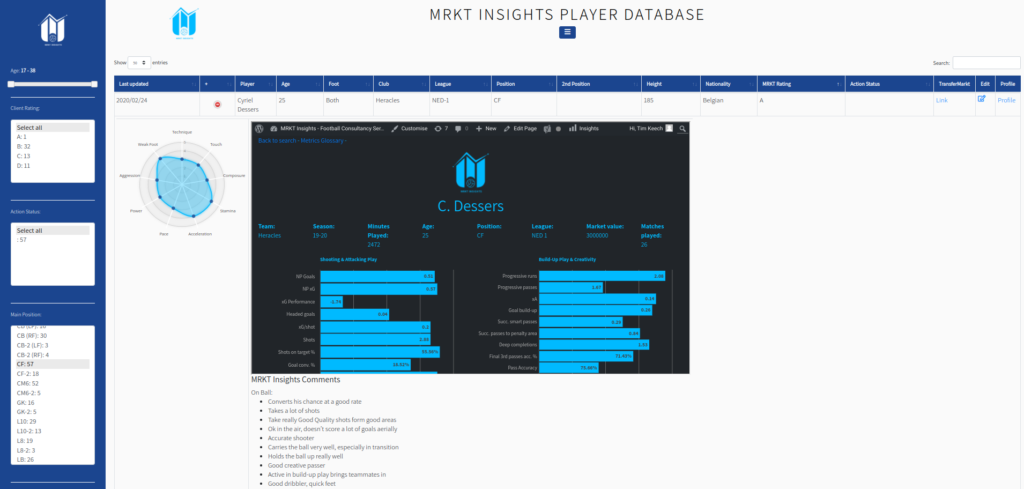 There are now players we have recommended or helped assess, playing on 3 continents.
This service is available to any client for one-off projects which are priced depending on the level the club is paying at, and the length of the project.
Full-Service Scouting
We provide a full scouting department along with our network of experts and contacts. We dedicate thousands of hours to scouting and have a large database of ready scouted players. We watch every game every week at EFL level and cover U23/U18 and Scottish football in great depth too.
We dedicate resources to the leagues most valuable to our client base but have the capacity to cover any league in the world. With the GBE permit changes in the UK we have expanded our South American coverage.
Our preferred model is to work with a club-appointed chief scout or head of recruitment.
The scout acts as the club's representative and liaises with the board and head coach to provide us with the information required to come up with affordable recommendations with the potential to increase in value.
We provide a full scouting service; recommending players to fit your requirements, giving quick but detailed feedback on any targets you recommend.
We have a network of experts covering the globe and are able to quickly provide local knowledge and player recommendations.
24/7 coverage is provided via WhatsApp and scheduled weekly meetings set the agenda and review the recommendations made.
We can help you develop reports to help with the final stages of recruitment.
Analytics "in a box"
In addition to our recruitment based work we can supply both a full data science service, and opposition and performance analysis.
We have purchased full data for certain leagues from a data supplier and created an in-house performance team containing qualified coaches and performance analysts. Our aim is to supplement your in-house team providing them with both the data they need and a second opinion to help make the best decisions.
We can provide insights at any individual player or team level, with clear data visualisations that show what is happening on the pitch.
We work with specialists in set piece design with track records of success to provide clients with help offensively and defensively.
With clubs in the EFL already working with us have developed a system that allows us to turn leading edge analytics into insights that can actually have an impact on the pitch.
Contact us for a demonstration.
Ownership Groups and Sporting Directors
We believe analytical thinking is key to success in football.
A modern club should aim to make consistently good decisions based on the best possible evidence.
They should learn from the best practice of successful clubs and develop processes that will lead to their desired outcomes.
MRKT Insights can help with this. We have professional backgrounds in working with large organisations to develop robust systems and work efficiently.
We work leading Sporting Directors, Heads of Recruitment, and CEOs on research projects and system designs to give their clubs a competitive advantage.
We have actionable plans, ready to go, with multi-year plans to take clubs to success.
A strategic department working with your club to provide leading-edge recruitment analytics, a thriving club network, and player and staff development.
Costs: POA depending on the scope of the project.