In the first part of this article we looked at what football investors could learn from the dot com bubble.
Our conclusion was that it is worth investing in high risk ideas if the potential return is sufficiently large.
Keep that in mind as we present some ideas on Game Changing Investments over the coming weeks.
In a recent blog we explored the idea of looking to invest in areas where the potential productivity of football players was high.
Problem: Competition for highly talented players has never been higher.
Solution: Create your own talent.
But how do you find talent?
Opportunity creates talent
My children go to a very small, state primary school with under 200 pupils. A few years ago the school won some funding for chess coaching and once a week for two years received a visit from a specialist chess tutor. In those 2 years the school won the inter-schools city championship (beating large private schools) and produced a player who won national tournaments. The talent was always there, it only took the opportunity to unlock it.
With football you need to be able to identify where unrealised potential is and create the opportunity for that talent to thrive.
In wealthy nations this happens though the combination of national football associations and an established network of professional clubs. If you are sufficiently talented you will be identified and given an opportunity.
Club sides such as Independiente Del Valle (Ecuador) and Altinordu (Turkey) have shown it is possible to develop a reputation for excellence in youth development even with relatively few resources. But both are in countries with good footballing infrastructure.
This isn't the case in most areas of the world.
But as we know football doesn't require huge amounts of expensive specialist equipment. Even in the poorest areas of the world children play football. And where children play, talent develops.
One person who realised the potential in these areas is Jean Marc Guillou who created opportunity through his academies. Over time he has run projects in Ivory Coast, Mali, Egypt, and Algeria. The projects in Ivory Coast, Mali, and Algeria have been hugely successful.
The Algerian project was run with a club side, Paradou, who are now regarded as North Africa's best producers of talent. According to TransferMarkt valuations (yes, I know) they have produced over £40m worth of talent in the last 5 years.
The Malian academy may end up being the most successful with 7 current Malian internationals having learned there.
So it is possible to develop players. There is a repeatable model that has had success in at least three different countries within Africa. There are also other successful models such as the academy who own a European club (Right to Dream and Nordsjaelland) and the European club who pay an African club to develop talent (Metz and Generation Foot).
Is it scalable?
There is a proven model; find the best talent, provide facilities, education, a long term commitment, and excellent coaching.
The key question is can you do this on a larger scale? This is where you will see your "game changing" returns. The JMG academy and Right to Dream models are highly selective, JMG only takes 15 pupils in each intake.
And where would you search for talent?
Ideally you want lots of children and a football crazy population. This really means Africa. We tend to underestimate the size of Africa, both geographically and in population growth terms.
Consider Lagos. Population estimates say there are approximately 20m people in the city region. 42% of the population are under 14. This gives us approximately 8m children of which 4m will be boys.

Doing similar calculations for European countries shows us that there are more children in Lagos than in the entire nation of Spain or Italy and almost as many as in the whole of England.
Nigeria alone has more 0-14 year olds than the whole of the European Union.
Nigeria has the potential to be a global powerhouse.Not just in football but in just about anything where human ingenuity and skill is required. Hundreds of millions of dollars have been invested in Nigerian high tech businesses, with a startup called Paystack recently sold for $200m to a US online payments company.
However, as I am writing this piece protestors against police brutality are being shot and killed by security forces. The situation in Nigeria is volatile and as much as we love football it is trivial in comparison.
We also cannot pretend that this would be an easy project or that there aren't very good reasons why people are not already investing in Nigerian sport development.
But we need to look at why Nigeria underachieves in talent production relative to their massive, football crazy population?
Academies already exist, as do professional club sides, Lagos has money and facilities other parts of Africa can only dream of. So what is the issue, it is talent identification? I'm not sure, Victor Osimhen was discovered, and was part of an academy within Lagos, but his story of how he ended up getting picked for Nigeria U17 shows how precarious a young career can be.
No player of Osimhen's talent should have to rely on chance meetings and 15 minute mass trials after 9 hour car journeys.
What players need is a fair chance of success. And for me the opportunity to provide that help comes from providing an infrastructure where you are less reliant on fate for success.
Imagine that instead of investing in scouts, or partnering with a single private academy or club (the low risk, low return model) instead money was spent on creating a whole league. Normally you would expect that level of infrastructure to be put in place by the national football association. However, in its absence, there is nothing to stop the creation of an independent, youth orientated league specifically built around the idea of player development.
The exact structure of the league would be up for discussions but I would consider the following to be key to the success.
A playing facility with an excellent synthetic/hybrid surface capable of hosting multiple games a day. There are existing facilities such as Onikan Stadium that could potentially be used subject to agreements.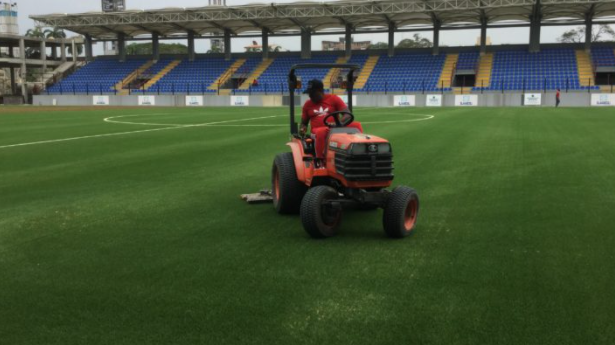 Within that stadium provide the ability to film the games in proper broadcast quality staffed by trained football camera operators. I cannot stress how much this lack of proper footage is undervaluing African players.
Once games are recorded, provide the footage to Wyscout, Instat etc and pay to have it professionally tagged by the data collection companies. They already do this for youth leagues in Germany and Denmark.
Giving each team a grant for facilities, staff, nutrition, education, transport, and providing centralised services like player registration, medical, and fitness centres.
Just as talented players need an opportunity so do local coaches. There should be the same quality of professional development as in major European leagues.
Why a league?
The sheer size of the population means there will need to be sufficient teams for us not to be missing out on huge numbers of players who could reach the required standard.
Nigeria already has a national league, albeit not currently playing but it isn't filmed. You cannot see footage from games in a country of 220m people.
Lagos alone with 20m people, twice the population of Belgium (and about 6x the number of children), could easily sustain 20 academy teams. What they could not sustain are the costs and inconvenience of travelling hundreds of kms for fixtures, having to provide and maintain their own pitches, kits and boots.
By building a dense local network of competitive games but played at a central base with good facilities, filmed professionally, then approximately 300 players a year (15 each at 20 teams) would be given an opportunity to showcase their talent in each year group.
How would profits be generated?
There are several routes open to making money. The first is that you may well create a product that appeals to Lagos football fans. With the right marketing the league may be appealing in its own right with ticket sales, sponsorship, even TV revenue.
The clearest route to big profits is developing top class football players and offering a development pathway into Europe. Players cannot transfer to Europe until 18 years of age under FIFA regulations, this means the critical development years will take place in Nigerian football. Offering great coaching and facilities would maximise the talent of these players whilst playing in front of domestic crowds would ensure Nigerian fans aren't deprived of seeing their best young talent play.
Contracts would be key, players could be centrally contracted to the league, along an MLS arrangement.
Costs
This is one of those projects that could cost whatever you wanted it to.
Running a league and simply scouting the players would be relatively inexpensive.
Running a league and offering some sort of residential academy for the elite players would cost more.
Running a league, offering a significant number of residential places with facilities, accommodation, and education up to the best in market standards would cost a lot more.
At £5k a year per pupil for a residential place and a 6 year training and educational programme each student graduating would have £30k invested in their journey. This isn't an insignificant amount of money. If you graduated 100 pupils a year this would cost £3m per graduating class.
Edit: My original quote of $5k per pupil per year was based of costing the price of a boarding school place in Nigeria with some additional costs for providing facility improvements.
Tom Vernon, founder of Right to Dream (RTD), got in touch to explain some more about their costing model. RTD spent approximately $25k per pupil per year. They provide not only top class facilities in Ghana, but regular experiences in international tournaments. Their players have visited Europe ten times before the age of 18.
I believe RTD to be the absolute gold standard of academies. In terms of maximising the life chances of every player, whether they succeed in football or not, you cannot get better.
As Tom also points out there are other viable and respectable models. I think that the population of Lagos will allow a sufficiently high standard of competition that you may not have to travel as widely or regularly.
We may though need to up the cost to around $8k per year per pupil which, looking at school fees, accommodation costs, and sport facility rental prices in Lagos, seems to offer a very good standard of experience.
Add in stadium costs, filming, tagging and you may approach £4.5m a year for the whole enterprise.
Expensive and risky? Yes and yes. However producing 1 PL level player a year is potentially worth £25m. Get an Osimhen as a graduate and you have an £80m player. The possibility of very high magnitude returns exists which is the lesson we learned in the first article.
Obviously you need to be in a position to capture this value which will only be realised once playing in Europe. Which is why I feel the ideal investor would be an existing club network able to add value at each move in the players career.
Difficult questions
There are always ethical questions when setting up a business that is potentially asking young people to be removed from their home to effectively train for a job that they are statistically very unlikely to succeed in. How would you ensure every young person was provided with a decent education and post-academy career plan?
You are also operating in a transactional relationship between the owners of the league and often children, who will not have access to independent advice on contractual obligations. As an academy if you have invested £30k in the education, training, and development of a young player and they then decide not to sign professionally with your network this will be painful. How do you ensure players want to remain with your organisation but are also aware of their freedom of choice?
As a (presumably) wealthy European/US business are you comfortable with the perception that this could be seen as an exploitative relationship? How would you structure the investment so it was mutually beneficial? Could partial ownership and profit sharing form part of the agreement, following an MLS style model?
How would you manage a business in Africa? As mentioned earlier in the article there are now hundreds of millions of dollars being invested in Nigerian technology companies. Could you find suitable local business and managerial talent outside of the football world to be the locally based representatives?
Obviously this does not have to be run by Europeans, Nigerian investors are better placed then anyone to implement such a scheme. Perhaps adopting the Right to Dream model and purchasing European club sides to place the best players at. Lagos has some very rich people and entrepreneurs, the potential to dominate the market for talented young players in perhaps the largest reserve of human talent yet to be given the opportunity to succeed is one that should appeal to them.
As mentioned at the start of this article, none of the ideas are going to be easy to implement, but the potential returns for any investor brave enough to invest are huge.